Platforms for extended detection and response (XDR) are solutions for automating the identification and correction of security flaws in hybrid systems.
These instruments are able to identify and react to threats affecting networks, endpoints, cloud services, and applications. Because XDR is capable of securing complex hybrid settings, businesses are embracing these technologies because the majority of traditional detection and response solutions are constrained to a single medium, such as endpoint security or network security.
No matter where in the business a security issue originates, XDR solutions offer a unified framework for managing it as it occurs. They can also be utilised to streamline detection and remediation for security teams by consolidating redundant, comparable detection and response systems.
Heimdal XDR
CrowdStrike Falcon: Endpoint Protection
Sophos Intercept X: Next-Gen Endpoint
Cynet 360
SentinelOne Singularity
InsightIDR
Trend Micro Apex One
Cortex XDR
Bitdefender GravityZone
Microsoft 365 Defender
LogRhythm NextGen SIEM Platform
1. Heimdal XDR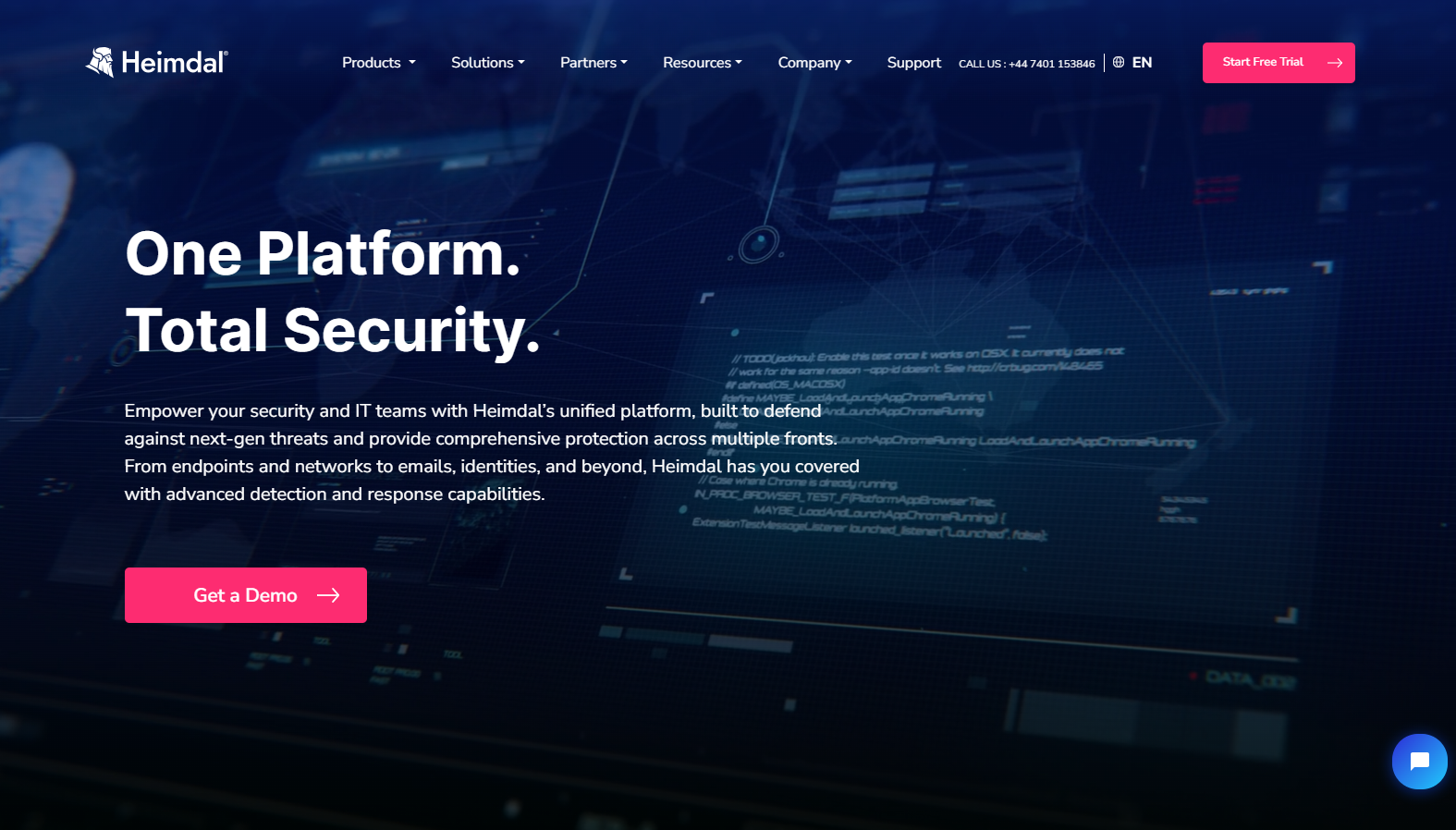 Empowering CIOs, CISOs and IT Professionals at all Levels
With the Heimdal XDR, you can eliminate the complexity of managing multiple security solutions and gain the peace of mind that comes with having a comprehensive, integrated approach to cybersecurity. Whether you're dealing with complex, multi-vector attacks or advanced malware infections, our platform has you covered. Don't wait – experience the power of our unified, cloud-delivered XDR platform and protect your organization from cyber threats.
2. CrowdStrike Falcon: Endpoint Protection
The pioneer of cloud-delivered next-generation endpoint security is CrowdStrike. By being the first and only firm to combine next-generation antivirus (AV), endpoint detection and response (EDR), and a 24/7 managed hunting service — all provided via a single lightweight agent — CrowdStrike has revolutionised endpoint protection.
Many of the biggest firms in the world, including three of the top ten revenue-generating global companies, five of the top ten financial institutions, three of the top ten health care providers, and three of the top ten energy providers, already have faith in CrowdStrike.
3. Sophos Intercept X: Next-Gen Endpoint
The most comprehensive endpoint protection solution available is Sophos Intercept X. Intercept X, which was created to thwart the broadest array of threats, has demonstrated the ability to halt even the most sophisticated ransomware and malware by combining several cutting-edge tactics.
This includes the capacity to halt ransomware using Sophos anti-ransomware technology, detect never-before-seen malware with deep learning, and deny attacker tools with signatureless exploit protection. Root cause analysis is another feature of Intercept X that offers insight into threats, and fast malware removal ensures that no attack remains are left behind.
4. Cynet 360
No matter the size, expertise, or resources of the security team, or the need for a multi-product security stack, Cynet enables any organisation to put its cybersecurity on autopilot, streamlining and automating all of its security operations while offering improved levels of visibility and protection.
This is accomplished by automating the manual investigation and remediation process across the environment, natively integrating the key security technologies required to give organisations comprehensive threat protection into a single, user-friendly XDR platform, and offering a 24-7 proactive MDR service, including monitoring, investigation, on-demand analysis, incident response, and threat hunting, at no additional cost.
5. SentinelOne Singularity
The only cybersecurity solution, SentinelOne, integrates endpoints, containers, cloud workloads, and IoT devices into a single autonomous platform for AI-powered prevention, detection, response, and hunting. SentinelOne gives businesses complete visibility into everything occurring across the network at machine speed, enabling them to stop attacks at every stage of the threat lifecycle.
Visit www.sentinelone.com for additional information, or follow us on Twitter at @SentinelOne, LinkedIn, or Facebook.
6. InsightIDR
A SaaS SIEM for contemporary threat detection and response is Rapid7 InsightIDR. By consolidating several data sources, offering early and trustworthy out-of-the-box detections, and providing comprehensive visual investigations and automation to speed up reaction, InsightIDR helps security analysts operate more productively and effectively.
InsightIDR customers enjoy a rapid return on their investment and begin seeing meaningful insights from Day 1 because of a lightweight cloud deployment, intuitive UI, and onboarding experience. Teams can advance their threat detection and response programme with InsightIDR without increasing their personnel.
7. Trend Micro Apex One
By rapidly safeguarding endpoints from sophisticated cybercriminal threats, Trend Micro Endpoint Security reduces infections for enterprise endpoints.
8. Cortex XDR
The first extended detection and response technology in the market, Cortex XDR, prevents contemporary assaults by incorporating data from any source. You may use Cortex XDR to detect covert threats by combining AI, analytics, and rich data. With sophisticated alert grouping and incident scoring, your SOC team can filter out the noise and concentrate on what is most important. Investigations are expedited by cross-data insights, which streamlines incident response and recovery.
With best-in-class endpoint protection that received the highest overall protection and detection ratings in the MITRE ATT&CK® round 3 test, Cortex XDR offers peace of mind. The Cortex XDR platform gathers and examines all data, giving you total visibility and all-encompassing security to safeguard what comes next.
9. Bitdefender GravityZone
With Bitdefender GravityZone, businesses can create a trusted environment for all endpoints at a lower cost by combining all the security services they require into a single delivery platform.
10. Microsoft 365 Defender
Security teams are overburdened by the rising number of alerts and complex and persistent threats. The Microsoft 365 security portfolio is used by Microsoft 365 Defender, a component of Microsoft's XDR solution, to automatically evaluate threat data across domains and create a comprehensive picture of each attack in a single dashboard.
Defenders can now concentrate on serious threats and search for sophisticated breaches with this breadth and depth of clarity, certain that Microsoft 365 Defender's strong automation will find and stop attacks anywhere along the kill chain and restore the company to a secure state.
11. LogRhythm NextGen SIEM Platform
More than 4,000 customers worldwide are given the tools they need by LogRhythm to help their security operations programme mature measurably.
For quick detection, reaction, and threat neutralisation, LogRhythm's NextGen SIEM Platform combines network detection and response (NDR), user and entity behaviour analytics (UEBA), comprehensive security analytics, and security orchestration, automation, and response (SOAR) into a single, integrated platform.
You may also read: